Journal of ICT Research and Applications welcomes full research articles in the area of Information and Communication Technology from the following subject areas: Information Theory, Signal Processing, Electronics, Computer Network, Telecommunication, Wireless & Mobile Computing, Internet Technology, Multimedia, Software Engineering, Computer Science, Information System and Knowledge Management.

Abstracts and articles published on Journal of ICT Research and Applications are available online at ITB Journal and indexed by Scopus, Google Scholar, Directory of Open Access Journals, NewJour, Open J-Gate, Electronic Library University of Regensburg, EBSCO Open Science Directory, International Association for Media and Communication Research (IAMCR), Cabells Directories, Zurich Open Repository and Archive Journal Database, and ISJD-Indonesian Institute of Sciences.
ISSN: 2337-5787
E-ISSN: 2338-5499
Publication History
Formerly known as:
ITB Journal of Information and Communication Technology (2007 – 2012)
Back issues can be read online at: http://journal.itb.ac.id
Scimago Journal Ranking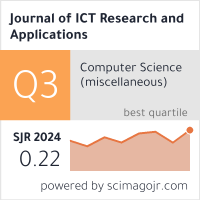 This work is licensed under a Creative Commons Attribution-NoDerivatives 4.0 International License.
Vol 10, No 3 (2016)
Table of Contents
Articles
Contact Information:
ITB Journal
Jl. Tamansari 64, Bandung, 40116, Indonesia
Tel: +62-22-250 1759
Fax: +62-22-2504010, +62-22-251 1215
Email: proceedings@lppm.itb.ac.id