Journal of Mathematical and Fundamental Sciences welcomes full research articles in the area of Mathematics and Natural Sciences from the following subject areas: Astronomy, Chemistry, Earth Science (Geodesy, Geology, Geophysics, Oceanography, Meteorology), Life Sciences (Agriculture, Biochemistry, Biology, Health, Medical, Pharmacy), Mathematics, Physics, and Statistics.
Starting from Vol. 1, No. 1, 1961, full articles published are available online at ITB Journals and indexed by Scopus, Thomson-Reuters Emerging Sources Citation Index (ESCI), Scimago JR, Directory of Open Access Journals (DOAJ), Google Scholar,  Index Copernicus, The Elektronische Zeitschriftenbibliothek (EZB) by University Library of Regensburg, EBSCO Open Science Directory, Indonesian Publication Index and Science and Technology Index (SINTA).
ISSN: 2337-5760
E-ISSN: 2338-5510
Publication History
Formerly known as:
ITB Journal of Science (2008 – 2012)
Proceedings ITB Science and Technology (2003 - 2007)
Proceedings ITB (1961 - 2002)
Back issues can be read online at: http://journal.itb.ac.id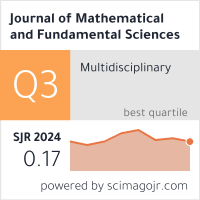 Announcements
News: ITB Journal Best Paper Award Winners Announcement 2013

ITB Journal has made the selection of papers published in 2013 to get the award for Best Paper.

Editors have selected the best papers for each journal:

Posted: 2014-02-21
More...
Vol 48, No 3 (2016)
Table of Contents
Articles
Editorial Section
| | |
| --- | --- |
| Cover Vol. 48 No. 3, 2016 | PDF |
| | |

This work is licensed under a Creative Commons Attribution-NoDerivatives 4.0 International License.